How to paint your home when you want to sell it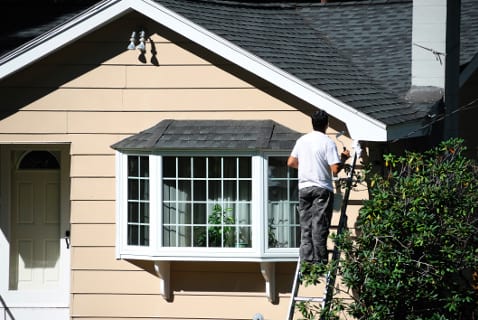 If you are planning to put your home on the market, painting it is one of the most cost-efficient ways to make it more attractive for buyers. The importance of the first impression your house makes cannot be understated – a buyer may ask about the neighborhood, state of the appliances or house maintenance, but these can't compare to the feeling a person gets when they enter your home. Knowing how to touch-up and decorate your home can help you make a quick sale at a price that you prefer.
Colors play a key role in attracting potential buyers
Picking the right paint colors play a significant role in attracting potential buyers. They set the stage for the furniture and decorations, giving a room its unique feel. Choose the right colors and a buyer will feel right at home, instantly picturing their belongings in the house. Pick the wrong ones, and you may turn off even the prospect who fell in love with your house at their first sight. The good news is that even if your house is currently is a very customized and creative expression of your personality, paint is quite easy to change. To help you in attracting potential buyers, below are our color suggestions that will help you make a sale.
Earth tones
Neutral colors
Gray
Orange
Red
Light Blue
Brown
Green
As you can see, these are neutral, friendly colors that do not necessarily mean that you need to repaint your home in bland shades. You can get a little creative with tones and shades, bearing in mind the effect they may have on potential buyers, but don't forget to leave some room for their imagination. You will be moving to a new home, after all, and you can create the unique atmosphere you want in your new space.
Areas that you should pay more attention to
If you aren't planning on painting the whole interior and exterior, at least make sure that the most noticeable areas are well-painted. These areas include:
The front door. A fresh, high quality front door finish makes a good first impression, and here are some color suggestions if you want a shade that makes a statement.
Entrance hall. Make sure your visitors get a nice impression of the interior with neutral colors and clean, unscratched paint.
Kitchen and bathroom(s). Give these rooms an extra clean look, by making the effort to remove any water spots or food stains. Since size is an important factor in the kitchen, consider painting it a very light color, like an off-white.
Windowsills. Make sure buyers notice the great view and not the spots on the sills. Sand, prime and paint any windowsills that need it.
Floors. Do a quick touch up and remove any chair marks and smudgy or cracked areas on the floor.
Door frames and edges. Clean the areas that come in frequent contact with soiled hands. Glossy finishes will clear more easily, and if that doesn't work, apply a fresh layer of paint.
Cabinets. Clean the cabinet doors of any fingerprints, conceal any imperfections on painted surfaces by applying paint.
Ceilings. Don't turn off a buyer with water stains on the ceiling. Check the structural integrity of the roof and prime and paint the ceiling to have a clean and presentable look.
By going through this checklist and taking care of any imperfections you will make sure that you have done everything you can to remove the flaws from your home and make your house attractive to buyers. A fresh coat of paint can solve many problems, but in cases of mold or water stains, we recommend that you remove the causes before painting.
Call Pro Painters for real estate painting services
If all of this sounds like a lot of work, don't hesitate and contact us or call Pro Painters at (847) 232-6160. We will be proud to make your house look its best and will apply the fresh paint carefully and to the highest quality. In case you are looking for real estate painting services, we are the painters who can make your property shine.