Increasing the Curb Appeal: Creative Paint Colors for your Front Door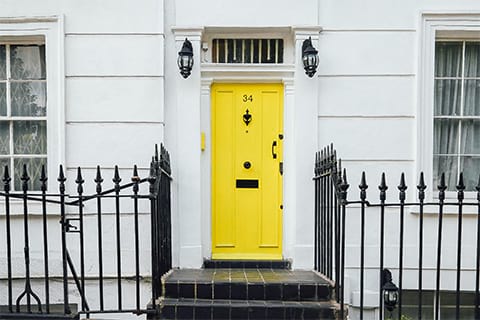 The door is one of the first things people see when they visit you, so why not customize the first impression they get before they even enter your home? By painting your front door a memorable color, you can charm your guests before they even see you - or make yourself and your family feel more at home.
The best way to find the color that will look great on your front door is to remember someone's entrance that really stood out. Perhaps a bright turquoise door made you feel calm and cheerful about meeting the parents of your partner? Does a solid red front door of your neighbors house make you feel like you're looking at a residence of someone truly important? Think about the front doors that create a feeling you want for your home and then pick up a color palette to see if the color you like works with your exterior.
Check out our suggestions for front door painting and remember that there is no need to choose a "safe" color just because it won't work in your interior - you can always paint the reverse side in any shade that goes with your living room.
Bright colors look stunning
Front doors painted with bright vibrant colors radiate a welcoming feeling even on a cloudy day. If you feel like making a stunning statement with your entrance, consider shades of yellow, red, pink, turquoise, mint, orange, purple, maybe even lime green? Combined with a white or grey exterior, bright-colored front door looks truly exquisite. For a full effect, try high-gloss finishes.
Neutrals go great with everything
Is your exterior quite a mix of colors already? You can choose a color that is already on your exterior to bring it out and emphasize it even more, or paint your front door a neutral color that complements the hues of your exterior. These would include shades of brown, beige, ivory, white and gray. High-gloss finishes will create a trendy look, while eggshell and matte will make your entrance look more traditional.
Darks command attention
If you want an entrance that looks strong and classy, dark colors may be the perfect choice. Dark green, indigo, deep purple, black, dark blue, complete with a matte finish, will make a solid statement that looks great with almost any exterior. If you want your door painted dark, but prefer a more relaxed feeling to your entrance, select an eggshell finish with softer tones.
Contact Pro Painters for a high quality door finish
Want to refresh the way your entrance feels but don't have time to take on a DIY project? Our exterior painting services are designed to accommodate all of your needs - from painting whole houses to perfecting exterior decor details, we can give your front door the high quality finish you are looking for. Drop us a line on our contact page or schedule your estimate right away and we will increase your curb appeal at a time that is most convenient for you.