Using Wallpaper Removal Solvents: Painting Contractors Share 7 Pieces of Must-Have Advice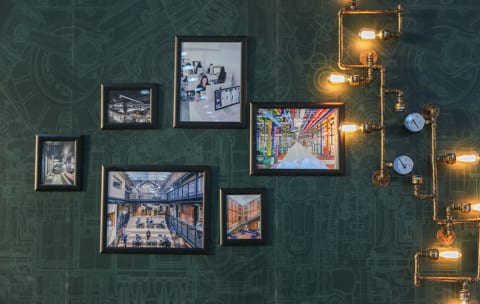 Are you planning a room makeover this summer? Adding a new coat of paint or wallpaper pattern is one of the easiest ways to transform any space. If you're wondering how to remove wallpaper from drywall, your priority is likely how to get it done without causing damage to your walls. The secret lies in the wallpaper removal solvent that you use. We've given you some of our best tips.
1. Try Removing Wallpaper with Vinegar
If you're looking for an affordable or all-natural solution, we suggest removing wallpaper using vinegar. Mix equal parts of distilled white vinegar and boiling hot water in a spray bottle. The heat will help loosen the wallpaper glue as the vinegar works to dissolve it.
2. Use a Little Fabric Softener
Wondering how to remove wallpaper with fabric softener? Some people swear by this everyday laundry product when talking about how to remove wallpaper glue. Combine equal parts of boiling water and fabric softener in a spray bottle, then spritz liberally as you work. As a warning, this can be a bit messier than other methods.
3. Swap Vinegar for Lemon Juice
When life gives you lemons, use them for vinyl wallpaper removal! The acid in lemon juice is great for dissolving glue. It's another all-natural method that won't stain or damage your wall. It also smells terrific!
4. Apply Using a Sponge
Don't mind getting your hands a little dirtier? Skip the spray bottle all together and apply your homemade solution using a sponge. This will let you soak up as much of the mixture as possible and applying it to the wall. As a plus, you'll be able to get the job done with minimal splashing. Nothing is worse than lemon juice or vinegar in your eyes!
5. Keep the Batches Small & Frequent
Heat is crucial when it comes to the effectiveness of your wallpaper removal solvent. To keep the mixture as hot as possible, mix the solution in small quantities. Apply the mixture as often as necessary, waiting 5 to 10 minutes before scraping with your putty knife.
6. Set Aside a Weekend
Rushing might result in accidental wall damage, so it pays to be patient. Regardless of your chosen method, be prepared to dedicate an entire weekend to the project. Spend the first day taking time to handle the messy stuff, like applying solvent and removing wallpaper glue. The second day should be spent prepping the walls for paint.
7. Call in the Experts
Vinyl wallpaper removal is notoriously tedious and time-consuming – and that's when done correctly! If you don't have the time to dedicate yourself to the project, hire a professional to handle the job. They'll know how to get wallpaper glue off plaster walls safely, which wallpaper removal solvent works best for your walls, and how to keep belongings safe. They can also handle painting the interior of the house and wallpaper installation, if you'd rather leave that job to the experts as well. Contact us and we will be happy to prepare and paint your interior walls for you.