Tips For Removing Stubborn Wallpaper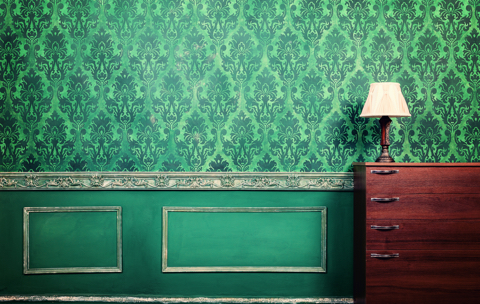 Wallpaper removal isn't an easy job. It can be tedious, time consuming, and a generally messy undertaking - especially if it has been there for a long time. It isn't impossible, and there are lots of tips and tricks to make the job as simple as possible. But first, what if we could avoid removing it at all?
Don't remove the wallpaper
If the old wallpaper is in poor shape - peeling, flaking, or bubbled in many places - this might not be a great idea, as it won't be a steady surface for your fresh coat of paint. However, if your wallpaper is stuck firmly on your wall, you might be able to simply prep, prime, and paint over it.
If there are any loose edges or corners, you can clean them up by either gluing them back down firmly or removing them and using a thin coat of spackle to blend the sections in. If there are any bubbles present under the paper, you can cut them out with a razor blade and blend them in the same way. It is also a good idea to sand the seams of the wallpaper to make sure they are smooth and ready for painting. If any seams seem loose, you can use a small amount of clear caulk to make sure they stay in place - this will prevent the wallpaper from peeling under your paint in the future. Apply a good quality primer to seal the wallpaper. This will keep the adhesive in the paper away from the moisture in the paint. Now you're ready to paint!
How to remove wallpaper
If you do need to remove the wallpaper, there are some strategies that can help make the job as painless as possible. If you can, start by pulling off the top layer of wallpaper. If the wall was properly primed before the old wallpaper was applied, then it might come off quite easily. If the paper was applied to unprimed drywall, you might have a more difficult time. In either case, soaking the walls with water is the best place to start - a compression sprayer that might be used for lawns and gardens is a great option here. Continue spraying water to dampen the wallpaper and loosen the glue underneath it, and then use a paint scraper to gently start separating the paper from the wall. This is the best way to remove wallpaper, even though it's time-consuming.
Once the paper is removed, give the drywall some time to get fully dry, then you are ready to prime and paint!
Dive in, and you'll have your home improvement project finished in no time. Wallpaper is definitely an inconvenience when you want to paint, but it doesn't have to get in the way of getting your home looking beautiful. If you have a big job and need to bring in professionals, Pro Painters has the tools and experience to take care of any painting challenge.