Choosing the Right Painting Contractor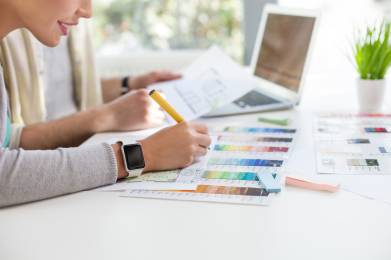 If you're planning on hiring a contractor to paint your home, you're probably wondering how to make sure that the one you hire does a thorough job that lasts for the years to come. We would like to share the knowledge we have gathered during our years in the painting business and help you choose the right painting contractor for your project.
Tips on How to Find a Painting Contractor
Hiring a professional to paint your home is no easy task. The right painting contractor can help you completely transform your home into the beautiful space you've always dreamed of with just a coat of fresh paint. The wrong painting contractor, however, can leave you disappointed or even cause permanent damage to your home or belongings. So, how can you tell one from the other and make sure that your renovation is a stress-free process?
Ask Around
Do you know someone who has carefully, beautifully painted walls in their home? Ask them who they hired to do the painting. Asking around is one the best ways to find contractors that are easy to work with and provide great services in your area.
Interview the Contractors
A conversation with the person that you plan on hiring can not only help you determine if they are the right fit for your project, but also reveal a lot about the contractor in question.
Here are some questions you should ask when interviewing a painting contractor:
How long have you been in business?
Does your estimate include all materials and labor?
What type of projects do you work on the most?
What products do you use?
What kind of preparation work do you do?
Are you bonded and insured?
Do you have full-time employees or do you use subcontractor services?
Do you provide pre- and post-project inspections?
Do you offer written guarantees of your work?
Pay attention to your potential contractor while you interview them. They should be on time, address you politely, deliver a sense of professionalism and experience, and always return your phone calls in a timely manner.
Be Very Specific
Provide as much detail as you can about your project. It's a good idea to walk your potential contractor through the work site while you explain to them what surfaces you want painted, what colors they should be and what finishes you'd like. The more specific you are, the more accurate your estimate will be.
Get at Least Three Estimates From Different Contractors
Getting more than one estimate lets you evaluate the pricing of each contractor - all of the estimates should fall roughly within the same price range. If they don't, ask why that is.
The Price Shouldn't Be the Only Concern
The typical painting estimate might include thorough surface preparation work, masking, covering and professional application of premium quality paint. However, there are companies that offer low-budget solutions and use cheaper paint, don't provide as much preparation but are faster in general. Of course, a cheap painting contractor doesn't necessarily mean a bad painting contractor, so choose one that best fits your needs and budget, but don't hire on price only.
Review the Contract
Always ask to see a written copy of the contract, review it thoroughly, and ask about any statements you need clarified. In particular, make sure to review:
What exactly is to be painted;
Paint type and colors of each area to be painted;
What preparation work is to be done;
How the contractor will protect your belongings, valuables and plants;
When the project is due to be started and how long it will take to finish;
When and how the contractor will be paid.
Compare all of the candidates for your project carefully. The right painting contractor should offer clear pricing, work with high quality materials, present a written contract, and be professional in every sense of the word. If you follow these guidelines, you should be able to hire a contractor who will make your home look delightful.
Could Pro Painters be the painting contractor you're looking for? Schedule an estimate with us and let's discuss your project!