Get Inspired With These Exterior Home Paint Ideas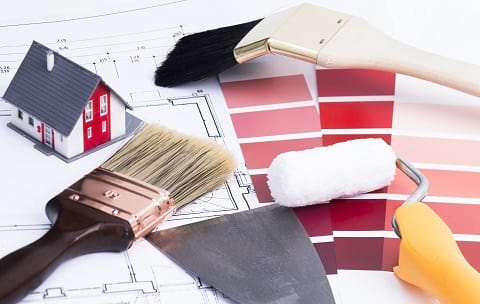 Exterior home design ideas are one of the biggest elements of your house's curb appeal. There are many color schemes that people are using more often to really bring some life into their outdoor space. The first step in planning for your dream exterior design is looking at popular color combinations and learning about how to decide which is best for you.
Advice for Picking the Perfect Hues
Before you dive into the paint chip samples and color cards, there are a few pieces of advice that can help to guide and simplify your decision:
If your home is older, consider honoring its history by recreating the original color scheme or something close to it
Homes with unique architectural elements can benefit from having them accented with two or three different colors to add dimension
Look to your home's roof for some inspiration, especially if it is an uncommon material, such as metal or terracotta
Consider the elements you will not paint, such as stone or brick, and choose colors that complement these
Take advantage of your home's intricate details
Jewel Tones for a Royal Exterior
When you are exploring different exterior home design trends, you cannot go wrong with jewel tones. Colors that fall into this category include a range of greens, blues, reds, oranges and purples. The selection of colors is diverse and it is easy to find them in both dark and light versions. Jewel tones are a terrific choice for Victorian homes because you can combine several colors to create a literal masterpiece.
Get Inspired by Nature
Nature colors, such as a diverse array of blues, greens and browns, offer a natural and relaxed touch to house exterior design. Research shows that nature, and just about anything associated with it, gives a feeling of serenity and wholeness, and its adds a level of depth that nothing else can provide. When you utilize nature-inspired colors for your home's exterior, you can essentially bring these good vibes to your property.
Neutral is the Cream of the Crop
If you read about home design, especially focused on selling, you see a lot about using a neutral color scheme. Colors in this category are timeless and they allow you to show off texture. They are ideal for all style personalities and combine well with bright accents should you want to make a bolder change in the future. Common colors that are neutral include grays, creams and whites and brown hues.
Marry the Light and the Dark
If you have a love of both light and dark colors, you can find ways to make them work together. When opting for this combination, consider the lighter colors for most of your home. Use darker colors for accent. For example, beige or ivory are ideal for the main color palette. Then, take one or two darker hues, such as a deep blue or a plum purple, and use these to paint doors and window frames. This offers a great contrast.
Professional Exterior Painting Advice
There is a wealth of exterior home design ideas when it comes to paint. These are modern exterior design trends, but they can work with homes from all eras. Now that you have some inspiration, it is time to sit down and get to the fun part of picking out the best scheme. For more information about painting your home and to get advice from our skilled and trained professionals, call us today at (847) 232-6160.