Get in the Know Before Painting Your Home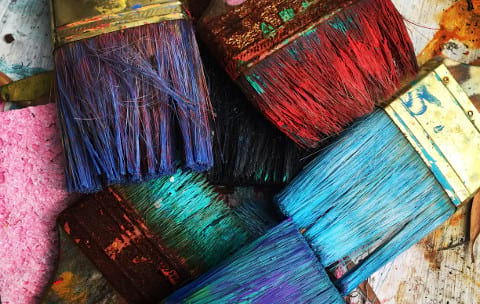 Thinking about taking on big home projects, like painting interior walls, can conjure up an overwhelming sense of panic; but don't let that deter you from starting. In fact, turn that energy into creativity for a home design you love. To make this feasible, get organized by knowing; know how to prep for painting your home, know what décor ideas you have to choose from, and know your mediums.
Know How to Prepare for Painting Your Home
Chefs use the term "mise en place," or, "everything in its place," to explain their preparedness for cooking. This means that they have everything, from the necessary cookware to each and every ingredient, systematically set out, as not to disrupt the cooking process once it's begun. "Mise en place" serves as an excellent rule for painting as well. To achieve "mise en place" before spicing up your home:
Know if you can handle the job alone. This takes serious work, so at this step, decide if you can handle the job yourself or if your need to hire reputable professionals to help you along the way.
Know your budget. Designing your dream from painting inspirations only to find that your pockets cannot hold those ambitious color combinations will set a dark tone for the rest of your project.
Know the size of your home to give yourself an adequate estimate of the time you will need, and create a frame for what this project entails. Glidden estimates that it takes anywhere from twenty minutes to two hours to properly paint an 11' x 12' bedroom; apply this reference to your own measurements.
Know to remove everything from the room(s) before painting your interior walls. Murphy's Law tells us why we do not want to leave Grandma's antique wardrobe even in the middle where "no paint can reach it."
Know to fix up loose ends before starting your painting project. For example, if you find a hole hidden behind a bookshelf, you need to take care of drywall repair before proceeding.
Know what tools you will need if you decide to take on the task yourself. All paintbrushes are not created equal. And in fact, some design trends require non-brush gadgets, such as rollers, sponges, brooms, and feather dusters!
Know What Décor Ideas You Have to Choose From
A quick click to Pinterest will send you into a whirlwind of possibilities for your home décor. You do not want to enter a whirlwind mid-project, so research design trends and structure your creative ideas before you begin. To organize your plan:
Know what you feel you want for your home. Do you want a cozy family feel, with warm color combinations in the main rooms, but then bold and bright colors in the little ones' rooms? Or maybe you envision a boldly accented artist's motif throughout your home. Explore your options.
Know where to draw your inspiration from. Martha Stewart offers some unique ideas of where to elicit that creative energy from, such as flowers or a bento box. Have fun with this and find your inspiration in unexpected places, to create a sense of you inside your home.
Know who to call for help. Just as with the painting itself, the workload of choosing a design can leave you mentally exhausted. Ask friends and family for advice and reach out to a stylist who can turn your fragmented thoughts into blueprints!
Know Your Mediums
Don't let the term fool you: mediums fall all over the spectrum, where paints are concerned. Which medium you choose will determine everything from cost, to appearance, to workload. Before choosing your paint:
Know whether or not you want to shine. As mentioned earlier with paint brushes, there are numerous mediums to pain with. One imperative option is to gloss or not to gloss. This seemingly simple choice will change a wall from rustic Italy to a candy shop.
Know your primer. If you are new to interior design, you may not know that you should apply a primer to any uncoated surfaces. But even primers differ from one another. An oil-based primer provides durability while a water-based primes will cover more smoothly.
Know what coat to wear. Well, hopefully your walls will wear more of it than you, but know that the cheaper paint might leave you with less coverage and require more work.
Professional Interior and Exterior Painting Advice
Now that you've been primed, have fun with this. After all, there is no place like the place you're painting. If you need some help deciding or don't have enough time to paint your home, feel free to contact us. Get your painting job done by trained professionals, call us today at (847) 232-6160 for your free estimate.