Increasing the Curb Appeal: Transform your Property into the "It-House" of your Neighbourhood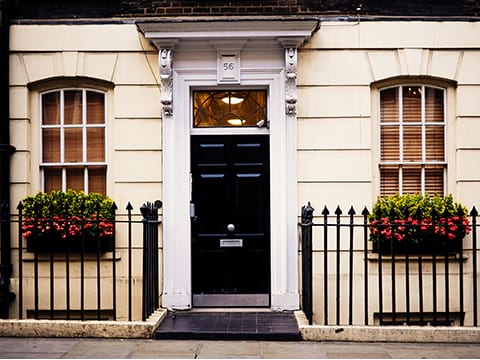 Remember that beautiful house that immediately captured your attention as you were driving by? There can be many reasons why you couldn't help looking at it, and not all of them are easy to pinpoint. Sometimes it's the nice blending of the coloring of the house. Sometimes it's the creative, rich landscaping that adds to the architecture of the house. And other times it's the clever details that grab the attention. All of these features is what we usually call the "curb appeal" and the good news is that there are simple, easy ways that can help you increase the curb appeal for your house.
Professional painters advice on how to increase the curb appeal
Usually, property owners really take the curb appeal into account only when it's time to sell the house. But there's no reason why you shouldn't enjoy all of the beauty that your house has to offer while you live in it. So, whether you're looking to sell your home or simply want to step up your curb appeal, Pro Painters offer advice that will help you reach your goal.
Power wash your house
Power washing is one of the most basic and affordable means that can do miracles to a house. Not only it removes dust, dirt and any other grime that accumulates over time, it also helps in maintaining the materials that protect your house from the elements. Power washing also removes any peeling paint and reveals any problems you should fix.
Paint your front door
The entrance is the area that should be tidy, beautiful and inviting. It is also the one place where you can choose any color you deem fit, so painting your front door is a creative, easy and effective task in increasing the curb appeal. While black, brown and white are the safe options, you can really spice things up by choosing a strong, bright color. Red, blue, and purple in all shades and hues can make an impression, and the availability of matt, muted, washed out, and glossy colors and finishes allows you to let your imagination run free.
Of course, keep in mind that to reach the full effect of the improvement, you must always keep the pathway leading to your house clean and tidy.
Exterior painting
While exterior painting is one of the more expensive measures to increase the curb appeal, it's still cheaper than replacing siding materials. However, repainting your house allows you to rethink how you want it to look, the power of colors helps you accentuate the best features of your house. Exterior painting is the one home improvement project that can transform any property from shabby to shiny. Whether you decide on doing it yourself, or hiring professional painters, the effect of a fresh paint job is immediate and dazzling. Especially if you haven't repainted your house in a while.
Maintenance is key to a beautiful home
Overgrown grass and hedges, litter, hanging gutters, peeling paint and missing bricks are just some of the things that can ruin the curb appeal of an otherwise beautiful house. This is what makes maintenance the key in keeping your house in a perfect condition.
So, cut the grass, remove any litter from your front yard, repaint your mailbox, trim any hedges and bushes, and check your home regularly for any imperfections you should take care of. If you do take good care of your home, it's easy to keep it attractive, and you won't have to worry too much when you decide to sell it.
Contact local painters
If you're looking for local painters who can help you make your house look its best, search no further. We are a team of dedicated professionals, painting the houses in Chicago and the surrounding areas beautiful since 2001. We will be happy to explore your preferences for your house, and when necessary, advise you on how to make your home into a beautiful, head-turning residence.
Schedule your free estimate and let's talk about your curb appeal!