Represent your Brand Right: Benefits of Commercial Painting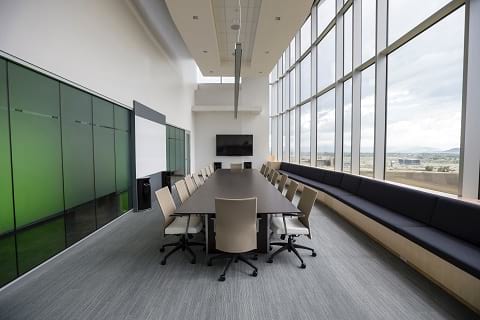 When companies think about branding, they usually focus on the company name, logo, product or service image and advertising. The appearance of your headquarters and facilities is very important as well, and can play a significant role in improving both how confident your clients are in doing business with you and how productive your employees are.
While repainting and refurbishing businesses in the hospitality sector, such as restaurants and hotels, has been proved to have a direct link to an increase in revenue, it has significant impact on other businesses too. So, if your property doesn't look its absolute best right now, our commercial painting services can help you harvest the benefits of representing your brand right.
Commercial painting boosts the way your clients perceive your business
Just think about it. Would you rather do business with a company that has their office in an unkempt building with faded, peeling paint, a water stain here and there, maybe even some mold? Or would be swayed to going to their competitor who work in a clean, bright, fresh, and otherwise aesthetically pleasing environment?
The condition of a commercial building may not be the only factor we weigh in as we choose whether or not we want to do business with a company, but there is something about a well maintained property that makes it more likely for us to say "yes" to an offer. It shows that the company cares about the way their business is done, demonstrates respect both to their employees and clients, and makes a more trustworthy first impression overall. All of these qualities tend to help a business attract more clients and generate more referrals which should help maintain or even increase profits.
While we have all been told not to judge the book by its cover, it appears we do it anyway. This is why commercial painting can help you boost the way clients perceive your business and help you gain that edge you've been looking for.
A clean and fresh workplace improves the way your employees feel about work
The visual surroundings play an important role in how we feel, which is why a change in scenery can not only cheer up your employees in the short-term, but provide long-term benefits, too. A fresh coat of interior paint improves employee morale, retention and productivity, and a well-chosen color scheme can also boost creativity and focus in the workplace. Extending your brand into the offices, warehouses, factories, break rooms and other places where your staff spends a lot of time improves the way they feel about coming into work and increases loyalty, as they feel as a true part of the company.
Improve your brand image with high quality commercial painting services in Chicago
Decided it's time to spruce up the way your business looks? We know how to make it more attractive to prospective clients. Our commercial painting services are designed to make your property look it's absolute best while causing little disruption to your everyday schedule - yes, we can paint overnight, and no, we don't leave any messes after ourselves. And while we paint meticulously and efficiently, we always meet deadlines.
Schedule your free on-site consultation with us and let's discuss your project. Our estimates are without any strings attached, and we would be happy to reflect your brand in living color.