Renovation Resolutions for Your Home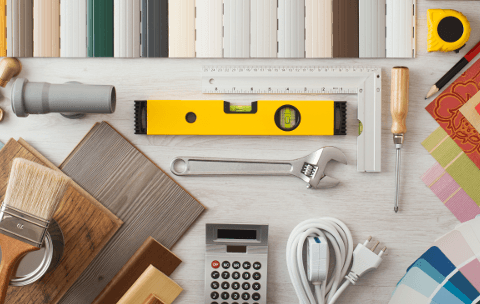 If one of your real estate resolutions for the new year includes freshening up your home, you might want to begin with research on which projects will give you the most return on your renovation investment, which tasks you can easily tackle on your own, and which should probably be left to the pros. Read on to learn more.
DIY Projects
Unless you've made a hobby of home improvement, one of your main reasons for working on DIY projects is probably saving money. And there are plenty of projects you can complete from start to finish for less than $100. Here are some affordable ideas that only require basic tools and do-it-yourself supplies that you can easily find at your local home improvement store.
Paint: A fresh coat of paint will brighten any area and can even revive tired kitchen cabinets. If you are planning to put your home on the market soon, opt for neutral shades that will be appealing to the bulk of buyers, and focus on high-traffic areas like the kitchen and bathroom. You should also repaint areas that show obvious wear. You might want to invest in high-quality paint and list that as a selling point.
New Hardware: Replacing worn hardware in the kitchen can make existing cabinets look new again and help provide a cohesive look if you've made other changes in the room. Even something as small as switching out the towel bar, toilet paper holder, and shower curtain rod and rings can give your bathroom a boost. The best part is that the only tools you'll likely need are a screwdriver and possibly a cordless drill, if you run into some stubborn screws.
Professional Projects
According to Remodeling magazine's Cost vs Value survey, the home remodeling projects that bring the best return on investment either impact the exterior of the home or focus on the kitchen or bath. Some, including replacing a garage door or replacing an entry door with a steel door, can be taken on by handy homeowners. Others, including adding manufactured stone veneer to your home's exterior, should probably be handled by home improvement professionals. Here are a few other renovation projects you might consider budgeting for if you want to boost your home's value.
Kitchen Remodel: As outlined by Remodeling magazine, this project can include replacing cabinet and drawer fronts, adding new hardware, replacing a combination cooktop/oven range and slide-in refrigerator with new energy-efficient models, replacing laminate countertops, and installing a mid-priced sink and faucet. Remodelers would then repaint trim, add wall covering, and remove and replace resilient flooring. According to the Cost vs Value survey, the upgrades offer a national average 81.1 percent return on investment.
Bathroom Remodel: As outlined by Remodeling magazine, this project can include updating an existing bathroom with ceramic tile floor and replacing all fixtures to include 30-by-60-inch porcelain-on-steel tub with 4-by-4-inch ceramic tile surround and new single-lever shower control. Other options include replacing fixtures with standard white toilet, solid-surface vanity counter with integral sink, and a recessed medicine cabinet with a light. According to the Cost vs. Value survey, the remodel offers a national average 70.1 percent return on investment.
It costs Chicago-area homeowners $12,865 to $33,184 and three to four weeks of time to have a kitchen remodeled. The average price to remodel a bathroom in the area is $5,531 to $12,917, with a project timeline of two to three weeks, according to HomeAdvisor. But the price and project time will vary based on the specifics of your home. One thing's for certain, though. All but the most accomplished do it yourselfers should rely on professionals to install countertops and cabinets and to do most of the other major work for both projects.
So, if you plan to do some significant renovations in 2018, you might want to start saving money now. And, until you build up you bank balance, try tackling some smaller tasks that won't take a lot of sweat or seed money.
Should You Hire a Pro?
In case home improvement isn't your hobby, you can always hire a professional who will renovate your home hassle free.They can also help you decide what home renovation projects should be tackled first. Feel free to give us a call if you need some firsthand advice in home painting to the highest standards.