Grown-up Rules Don't Apply When Painting a Kid's Room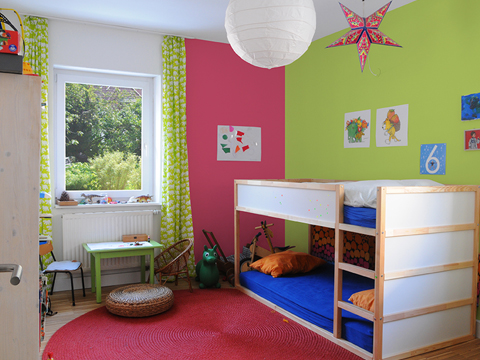 When painting the interior of our homes, we tend to carefully search for a sophisticated color scheme that reflects our personalities. Painting a kid's room is completely different, though. The process itself is more exciting, and the end result should be an energetic, lively and inspiring room for your little one.
Get creative and have fun
The most inspiring thing about children is that they are limited by their own imagination only - they create without thinking about what goes best with what. And you too might just have to throw your rulebook out the window and get playful when selecting the colors for your kid's room. Let your imagination run free and have fun when painting the room for your little one. Any colors go here, and your children will love the bright interior created just for them.
Best colors
One way to look at painting your kid's room is going wild with the color selection. Sky blue, baby pink, magenta, lavender, apple green, turquoise, tangerine… And don't just limit yourself to one color for the walls and another one for the trim. The kid's don't care about those rules. You can paint one wall in a different shade, the trim in another, paint the ceiling in anything other than white and go crazy with the floor. Almost anything goes here, just ask your kids. They'll tell you.
Another way to look at it, is choosing a color that grows up with your little one. If you think that babyish palettes get old too fast, you can always opt for a more neutral and more sophisticated interior coloring, something that looks bright and happy, but suits your child as they get older. White is an option that looks great in a nursery and goes great with all of the warm colored accents and candy-like colors found on baby items and toys. A soft, mint green is also a great choice as it can grow up with your child when paired with bright accents and wood furniture.
Wall decorations
If you don't feel like adding wallpapers to your little one's room, there is a wide selection of stickers and other removable wall decorations available on the market. Cartoon characters and superheros, glow in the dark details, any geometric pattern - most of these are easy to install (and remove) and allow you to customize your child's room in any way you can imagine. And as they grow, you will be able to switch the decorations without having to take on a full repainting project.
Get your children involved in the color selection
Invite your children to express their opinion on what color their rooms should be. You don't necessarily have to paint the whole room a bright red, if that's what they choose, just an accent on a neutral colored wall. Another great idea is to paint three walls with neutral colors and the fourth one with the color that your child chooses. This will allow them to express their personalities, and earn you the cool points.
If you're painting a nursery, your tiny personal color consultant won't be able to tell you about their favourite color just yet, so you will have to get creative yourself and choose the colors you think will work best. But don't be shy and create the beautiful bright room that your child will be happy to grow up in.
Professional Painters
If you don't have the time to paint your kid's room yourself, or want some expert advice on choosing the perfect colors for your kid's room, Professional Painters are always ready to help you out. Call us at (847) 232-6160 for your free estimate and let's talk!