Painting Your Home Before the Holidays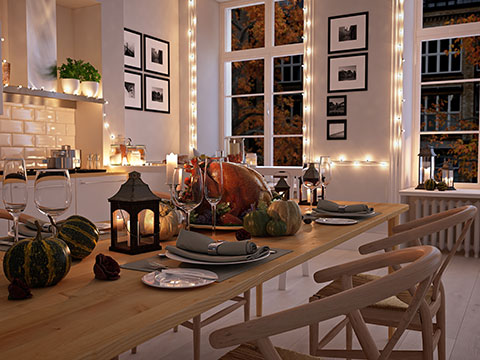 With the big holidays approaching, we know you want your home to look its best for when your family and friends visit you to celebrate. Even though you will need to act rather quickly, there is still time to paint your home before you decorate for the holidays.
Tips for your Pre-Holiday Painting Project
Take a close look at your home. Start with your hallway, where your guests get the first impression of your home. Does it look welcoming, or could it use a fresh coat of paint? Carefully inspect your dining room, living room, kitchen, bathroom and powder rooms as well, and try to honestly evaluate their condition. If you find out that your interior is asking for a repaint, you should act quickly - before decorating, gift shopping, food preparation and other festive tasks start taking up your time.
Making a list of the areas that require freshening up should help you make the process quicker. Prioritize these areas by the amount of time you expect your guests to spend in them, and note carefully what precisely needs to be repainted or repaired. While you are walking around your home with a notebook, you may also want to visualize the colors that you prefer for these areas and write them down as well.
Choosing a Painting Contractor for Your Pre-Holiday Renovation
If you plan on hiring a contractor to paint your home, call them as soon as you have your list to make sure that they are available. However, most people tend to think about other things than painting their home during the holiday season, so your painting contractor will most likely be available and thrilled to help you refresh your home. Another benefit to hiring a contractor is that their rates are likely to be lower during this time.
Painting Your Home by Yourself
If you choose to refresh your home yourself, start by cleaning and repairing the surfaces. Once you're done with it, comes the exciting part - selecting the paint color for your home. We recommend not making any hasty decisions when you're doing last-minute painting. Instead, choose a safer, more neutral palette that goes great with your furniture and decorations. However, if you want to really spice things up in your home, go ahead and choose the colors of the festive season. They will definitely leave an impression to your guests.
And once you have your new paint, don't forget to secure your belongings, remove any paintings and decor, and move your furniture away from the walls. We don't want you to ruin your couch with a splash of red paint right before Christmas.
Professional Painters Are Ready to Assist You
We are sure that your family and friends will be very impressed with your fresh interior, and you will have a great, memorable celebration in your beautiful home. If you would like some professional help with your interior painting, please don't hesitate to contact ProPainters. Our courteous and experienced team will help you swiftly enhance your home.