4 Things You Can Do Yourself to Prepare Your Home for Spring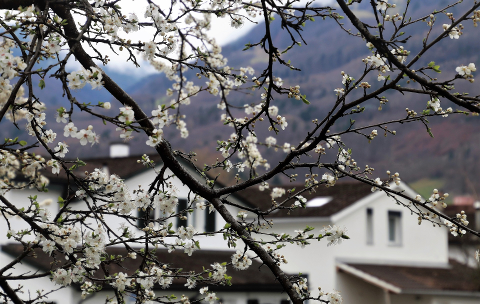 The signs of spring are upon us. The weather is warmer, the birds are back, and people are flocking to home improvement stores. There's just something about being cooped up all winter inside that makes you want to clean and repair your home. Our tips will help you do proper spring home maintenance yourself.
1. Assess Your Home's Exterior
Snow, wind, and ice take a toll on homes each year. If you had a hail storm or heavy snow, dust off your ladder and climb up to get a good look at your roof. HouseLogic recommends looking for cracked caulk or rust spots on the flashing, missing or broken shingles, cracked and worn rubber boots around vent pipes, or mounds of moss or lichen.
Be cautious about walking on your roof. By standing on the ground and looking at it from all angles and climbing your ladder to inspect your roof more carefully, you can spot warning signs. Call a reputable roofing contractor to give you a professional opinion on replacing or repairing your roof for spring.
Checking your gutters also should be on your to-do list when spring approaches. First, look inside using a flashlight for piles of grit from your asphalt roof tiles. Your shingles should have this sand-like material to protect them from the sun's rays. When it comes off, you likely need to replace your roof. This grit also is a sign that you need to clean your gutters.
Clearing your gutters helps protect your roof, siding, and foundation from water backing up due to clogs. All too often, gutters fill with winter debris or suffer damage during the cold season. Help them function properly by cleaning them for spring.
It's also a good time to check the health of your trees. Winter is not kind to trees, so help yours flourish by removing decorative holiday lights and protective winter wraps. Rake and gather debris, such as twigs or fallen fruit, that collected below your trees and discard it to prevent fungus from growing. Look for limbs broken by winter winds and trim or remove them before they fall and cause damage to your home or property.
2. Interior Spring Cleaning
For many homeowners, spring means one thing: spring cleaning. This year, add maintenance tasks to your spring cleaning efforts. For example, pull out your appliances to clean. Angie's List recommends cleaning behind and underneath the refrigerator, oven, and washer and dryer because dust, dirt, crumbs, and cobwebs accumulate. If you own pets, you'll get a chance to clean the pet hair and toys, treats, or other items that they pushed underneath. When you pull out appliances, check the electrical cords and water hoses to make sure they are in good working order and that you don't have any leaks.
Other areas of the home needing extra attention for the start of spring include lights, ceiling fans, the top of kitchen cabinets, and baseboards. Dust accumulates quickly during winter, so climb a ladder or use a duster with an extension wand to ensure you don't miss any places. Replace burned-out light bulbs and make sure your ceiling fans turn in a counter-clockwise direction as you look up at them to blow the air straight down. This helps cool your home as the temperatures grow warmer.
3. Wash Your Windows Inside and Out
Over the winter, dirt and grime accumulate on windows. Take advantage of the first warm days of spring to clean your windows inside and out. You'll enjoy having more sun streaming in clean windows and knowing that your pets' nose prints and your kids' handprints are gone.
If you dislike washing windows because you leave streaks behind, try vinegar. It is nontoxic and has antibacterial properties to kill germs while leaving your windows sparkling and free of streaks. According to Great Day Improvements, the trick is to mix hot water with white vinegar and then wipe with a lint-free microfiber cloth or newspaper.
4. Paint a Room
What is spring without the color it brings? After a cold and snowy winter, breathe some life back into your home and bring it out of hibernation by touching up or repainting a room. Before painting, clean the walls first using a vacuum cleaner or clean towel to remove built up grime and prepare the surface for paint. For bathrooms and kitchens, mix together a solution of three teaspoons of laundry detergent to one gallon of water to clean deep down.
Painting might seem easy enough, but there is some prep work that needs to go into it. Remove all furniture from the room, and cover the floor with a drop cloth. Use painters tape to prevent paint from making its way onto trim, light fixtures, and outlets. Before you decide on a color, tape the color swatch to the wall to see how it will look. Colors can look drastically different in the store due to the lighting.
You can clean and maintain your home this spring by assessing your home's exterior and the health of your trees. Then, give your home a deep spring cleaning from top to bottom. Finally, use vinegar to give your windows a streak-free shine and add a pop of spring color to walls with a coat of paint.