Represent your company right and create a positive mood in your office
Office painting in Chicago
Create a productive work environment and impress your clients
The office is a space to be motivated, creative and focused. It is also a place where your clients come to discuss business, so you definitely want your office to reflect the brand you represent. Professional office painters can help you in achieving these goals, as well as provide insight on how you can reflect your business values in the interior of your work environment.
From power washing and repainting exteriors to custom paint color matching and painting logos, our office painting services are designed to meet and exceed your expectations. We value your time, which is why we deliver quality, meet deadlines, and clean our messes as they happen. After we're done sprucing up your workspace in Chicago, all you come back to is a beautiful office - no paint smell, no unexpected messes, and no surprise fees. Sounds good? Schedule an appointment with us and let's refresh your office!
Office building painting
One look at the building where you conduct your business, and a potential client or partner has the first impression that you won't be able to take back. Make sure your image and brand aren't affected by an outdated, rusty or cracking exterior. Hire Professional Painters for office building painting and not only will you be more confident in inviting your business partners over, but your employees will come to work with a smile, too.
Don't worry, we won't disturb your day to day activities while we repaint your building - we can do it over the weekend, or at any other time that you deem convenient. Just let us know about your needs and we'll accommodate them, no questions asked.
Corporate interior painting
Corporate interior painting is much more than just repainting the walls. A cleverly chosen color scheme can not only reflect the brand your office represents, but also inspire your employees to perform better, boost creativity, reduce stress, and encourage teamwork. While a change of scenery can provide a short-term motivation boost, working with professional office painters can win you long-term benefits too.
When the time to paint your office comes, we're here to make your life easier. We consult our customers on color and paint selection, our estimates are honest, and our timelines of completion are realistic. Our experience in creating elegant spaces and knowledge of color is what separates us from our competition, so if you aren't sure what hues would work best for your office, you can confide in us.
Contact us for commercial painting services
Decided it's time to swap the old color scheme for an elegant and inspiring one? Our team of painters is ready to create a pleasant environment that inspires productivity in your employees and impresses your clients. We offer high-quality commercial painting services, flexibility in meeting your deadlines and honest, clear pricing so that when you need someone you to paint your office, you wouldn't have any doubt and choose Pro Painters.
Contact us and let's make your office look good on the outside and even better on the inside!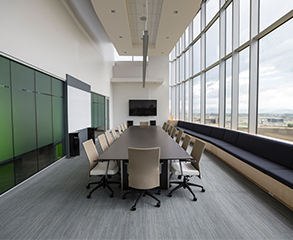 A conference room in an office in Chicago.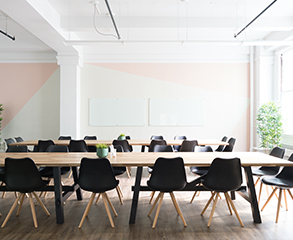 A spacious conference room in an office with white and pink painted walls.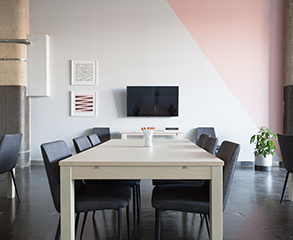 A large office space with white and pink custom painted walls.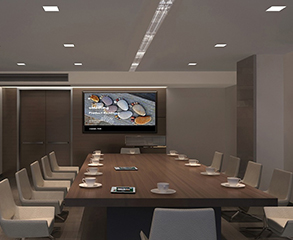 Contrast between grey and dark wood in a conference room in Chicago.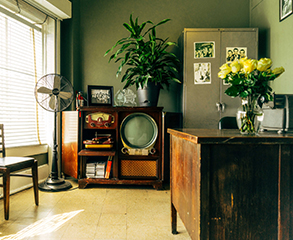 Vintage office in Crystal Lake.